Welcome, visitor
[ login ] [ register ]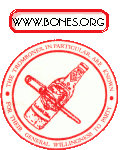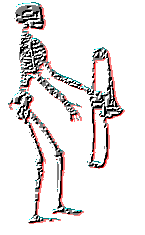 So...
When you're in the shower and you're feelin, blue, just click on www.bones.org and we'll be there for you!. Ah, what the hell...at least you look like you are working, sitting in front of the computer, just like in those snazzy new AOL commercials. As long as there are no pictures of Pamela Anderson popping up, no one is the wiser, right?. Well, since you made it this far, I hope we can keep your fancy for a few minutes, as you obviously want to learn more about Cornell's version of:
Da 'Bones
"It's not just an instrument, it's an attitude."
---
Info
Purpose

To bring together individuals who enjoy music, marching, and need a social outlet to relieve the incredible stress that Cornell generates in all of its students. The bones encompass a broad range of personalities and qualities, united in brass and the ability to have a good time. Despite the attraction of many a bone to beer, we are not all fueled by this social lubricant, and have always included the root beer inclined. And while often it is said a bone at rest tends to stay at rest, paradoxically bones also are known for bowling, floor hockey, and kickball on the arts quad. We are governed by no simple equation. Rather, we are an extended family. We are 15-30 enthusiastic, dedicated, fun-loving Cornell students who happen to play trombone (henceforth referred to as BONE) or baritone (similarly TONE).



The Section and the BRB

Officially, the section is a subset of the Cornell University Big Red Marching Band: "Where the Trumpets are assholes, the Tubas are ugly, and the Bones just ARE." The BRB is known as "The Only REAL Marching Band in the Ivy League" due to the fact that we are the only non-"scatter" band of the Ivies. That's not to say that we are more serious than the others, just that we like to look like we know what we are doing. In a world of scatter bands and competitive bands, the BRB and Da Bones have a balance: the practice and dedication to look and sound good, with the flexibility to maintain academic priorities. And sombreros.

For quite a while, da 'bones were known to stay out of band politics, but recently a surge of bones have found their way to power. Recent officers include:



Slice -- Pep Band Manager, '23 | Pep Band Treasurer '22

Ella -- Pep Band Social Chair, '23
Willem -- Pep Band Fundraising Chair, '23
Puffle -- Pep Band Conductor '21

Michael -- Field Manager '21

Yawen -- Special Events Coordinator '21

Syd -- Special Events Coordinator '21

David -- Show Comm '20

Alfonso -- Social Chair '20

Devin -- Pep Band Conductor, '20 And '21

Lynn -- Pep Band Manager, '20 | Pep Band Historian '19

Magnus -- Pep Band Conductor '18'

Jojo -- Pep Band Conductor '18'

Ryan -- Pep Band Conductor, '17

Alex -- Pep Band Conductor, '17

Claire -- Pep Band Fundraising, '17

Magnus -- Pep Band Webmaster and Equipment Chair, '17

Jessi -- Pep Band Historian, '17

Peter and Ji Ann -- Pep Band Social Chair, '17

Brendan and Hayley -- Pep Band Social Chair, '16

Matt B. -- Webmaster, '16

Claire -- Pep Band Fundraising, '16

Alex -- Pep Band Equipment Chair, '16

Talia -- Pep Band Secretary, '16

Matt -- Webmaster, '15

Gray -- Social Chair, '15

Stef -- Social Chair, '14

Claire -- Secretary and Pep Band Historian, '14

JCS and Frank -- Pep Band Conductors, spring '14

Shark -- Social Chair, spring and fall '13

Dan -- Pep Band Conductor, spring and fall '11 Encore!

Mark -- Pep Band Historian, '10 | Pep Band Secretary and Librarian '12

Kathryn -- Pep Band Conductor, spring '10 and spring '12 | Alumni Relations, '11

Zach -- MB Publicity, '10

Derrick and Tyler -- MB Historians, '10

Dennis, Max, and Roger -- Social Chairs, '08 All Bone Social!

Joel -- PB Secretary '07

Barbara and Jared -- Uniform Chairs, '07

Vicki and Amanda -- MB Historians, '07

Maggie Cello -- PB Historian, '04

Bryan -- MB Publicity, '03, Social Chair, '06

Lauren -- MB Historian, '03, PB Secretary, '04, MB Treasurer, '04, PB Manager, '05

Chips -- Pep Band Equipment Czar, '02, Pep Band Conductor, '03

Alan -- Historian, Pep Band Conductor, '02

Chris -- Pep Band Manager, '02. A bizarre example of 'bones lowering entropy.

Dan & Jamie -- Show Comm., '02. Return of da 'bones

Rico -- Head Field Manager, '01. Last of an era. A very tangy era.

Chad -- Social Chair, '01 .. at least he has taste!

DERSK!! -- show committee, '97. At long last...


And others, which I cant think of right now..



On instruments and personalities

It is well known by most members of musical organizations that certain types of individuals are drawn to certain instruments. Whether the instrument shapes the personality or the personality gravitates to the instrument is a question that must be lumped with the eternal 'genetics vs. environment' debate. In any case, it has been my experience that bone players are of a certain breed, and thus are drawn together. Bones everywhere will know what I am talking about here. However, as the quote above indicates, the most important part of being a bone is the attitude, and so "Da Bones" at various times have also counted among their membership certain saxes and a flute or two. There seems to be no recorded instances of a trumpet in our ranks, however (HEY, what about that traitor.. oh.. yeah..). ;-)



Alumni

Every so often, a bone will undergo a transformation. The symptoms are clear: the joints start to ache, a period of whining commences, ding letters begin to arrive almost constantly, and the bone becomes "crotchety." Yes, there is a point where a bone becomes a fossil (aka OLD). As an alumni, a new set of duties must be assumed, such as coming back to Ithaca often and annoying the young'uns.

Possessing one of the strongest and most dedicated alumni networks, the "bonenet" currently spans Boston, California, Amsterdam and parts in between. At least twice per academic year, many fossils around the globe make the journey back to Ithaca for "Bonecomings." There, the relics, using the wealth of something they call "jobs" are compelled to corrupt today's youth in various fashions, usually involving some exotic beer, exotic cigars, even a certain "Cousin" every now and then. Many alumni also stay in touch with each other and the underbones by means of bone-L, a mailing list set up for the section at Cornell.

As the years have passed, some bone alumni have acquired particularly exotic possessions, known as "spouses" and "children." It's not easy for these family oriented types to haul their broods of bonelings to Ithaca every autumn. Hence the idea of "Grand Bonecoming." Every three years, all bone alumni - regardless of how many kids they've sired or what continent they live on - are called to return to the East Hill to make merry with the undergrads. Grand Bonecoming was first held in 2002, and the current cycle was established in 2004. The next Grand Bonecoming will be held in 2016.



Joining

The bones of Cornell are defined not only by a long history and dynamic present, but also the mysterious allure that is... the future. The story is constantly being written. If you're a trombonist or baritonist interested in joining the saga, send us an email! You can contact our current section leader, Josh.

You can also just stop by the band room in the Fischell Band Center. Check out the marching band webpage for upcoming events. You can also check out the historian or pep band facebook pages to get a better look at the band.



bones.org

Not only were Da 'Bones the first section at Cornell to establish an email based announcement system that became Bone-L, but we were also the first section of the Big Red Band to have our own web page. Both were spearheaded by then co-section leader Jon "Tablewine" Logan '94 in the 1993-1994 school year. The page you are reading now is the remnants of that original page, as the site has been bounced around several accounts like a hot-potato for the past several years. Acting on an idea discussed over bone-L, Craig Bloom '93 took the initiative to secure the "bones.org" domain for us in the Summer of 1997. So our site had a new home, it was given a LONG overdue facelift, and every Big Red Bone who wanted one was given an email account with bones.org.



Bones, Inc.

Torch, are we Incorporated, yet? ;-)

---

Any Questions? Bitch to: webmaster@bones.org
Current Bone Webmaster (by decree) - Slice '25: mzs9@cornell.edu